The client
With twenty Broshuis semi-trailers, often with wheel wells, Van Wieren Special is an essential part of our "On the Road" section.
In this section, the biggest challenge already starts at the office of the Emmeloord Family Business. Before we take a ride, we take a look at the planning, where Harm and Maarten van Wieren carry out their work in the heart of the team. The phone rings non-stop and you notice that the challenge really starts here. "How high is the machine? What is the weight? " are the terms you hear a lot in both the English and German language. Van Wieren Special B.V. has every machine of course a solution, but does it fit in the planning...
The challenge
The challenge we are taking on today is charging a machine at Van Wieren Special his regular customer SMT in Emmeloord. SMT, importer of Volvo and Sennebogen earthmoving machines, is close to the Van Wieren site. An L150H from the rental fleet of SMT may be brought directly on location. It is already 4:00 pm so it is the last job of the day.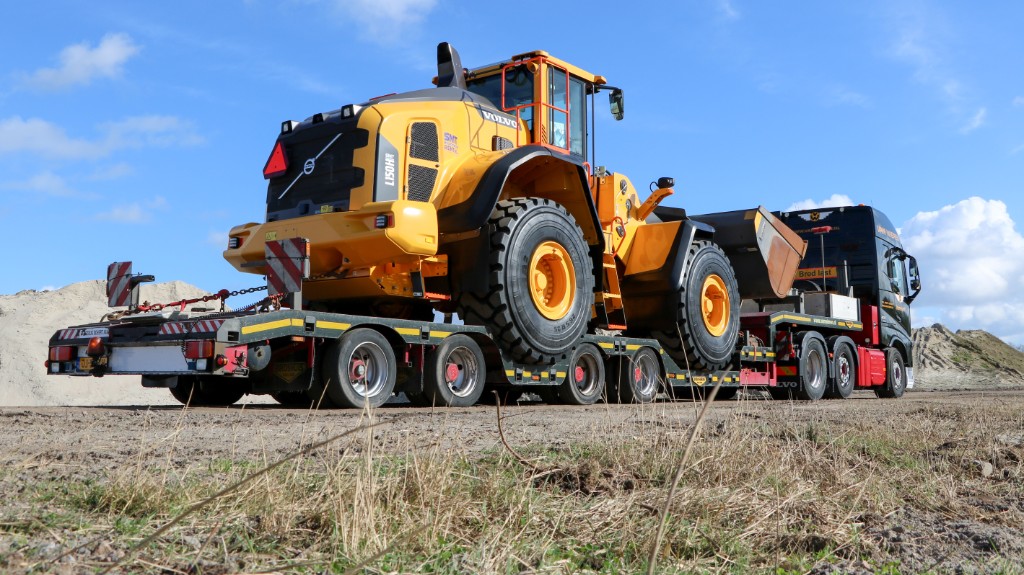 The solution
On arrival at SMT, the barrier opens by means of a remote control that Van Wieren drivers have in their car as standard. there the L150H is waiting for us shiny. On arrival, the driver must first empty the wheel wells in order to lower the tires of the shovel. This lowers the shovel and allows this transport to be transported on a semi low-loader instead of a low-loader. After the wheel wells are empty and the ramps are hooked on the back of the trailer, the driver of Van Wieren steps into the shovel to drive it on the trailer. This is where Van Wieren's service comes into play. After the machine has been loaded, the driver will start to secure the load. This clearly shows that the design has taken into account securing the various machines.
After a small tour we arrived at the destination. A sand quarry in Friesland. The site has already been deserted and when we get out it is an oasis of peace. We unload the shovel in peace and put the keys in the appropriate place. And we return home.