Reliable supplier of trailers with a long service life
Our advisors will help you, without any obligation, to find the trailer that suits you best.
We believe that a "Broshuis" trailer should be able to do its job for many decades. For this reason, we only build our trailer at 1 location in the Netherlands (Kampen). In this way we keep a grip on the consistently high quality of our trailers, so that we can offer you a trailer with a long service life. We constantly look at improving the product and our production process. Not only in terms of quality, but also safety. Safety for our staff, the user of our trailers and other road users is our highest priority.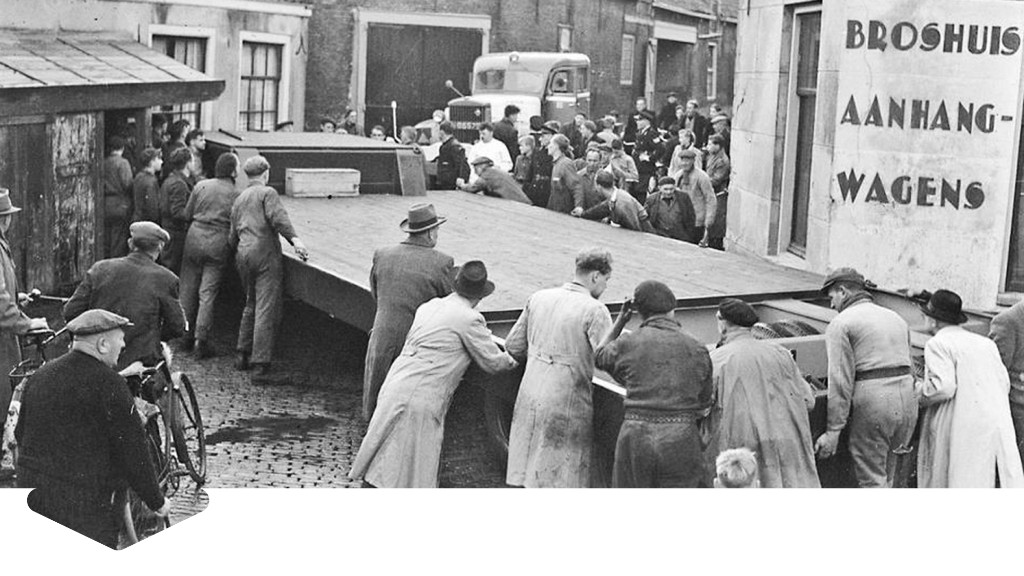 Our history
1885
Establishment of Broshuis. Since its establishment we have been driven by innovation and over the years we have introduced many new products.
1929
Production of the 1st trailer. In 1929 we started producing the 1st trailer.
1932
Start with customer-specific construction of semi-trailers and trailers. Production of semi-trailers and trailers to specially meet customer preferences.

1954
Introduction of 1st extendible trailer. The 1st flat, extendible trailer for transporting piles for the Hilton Hotel in Amsterdam.

1956
Introduction of the 1st low loader. In this year we introduced the first low loader in which you are able to load between the tractor unit and in front of the axle group. This allows even higher loads to be transported.

1965
First extentible semi low loader. In the year 1965: the first extendible semi low loader in the world!

1983
Introduction of the 1st extendible container chassis. The 1st container chassis in which any container system can be transported.

1992
1st defence contract. Contract to build 137 semi-low loader for the Netherlands defence.
2000
Introduction of the 1st Triple Trailer®. In the year 2000 we were the first manufacturer to introduce a 3x extendible trailer.

2003
Introduction of the 2CONnect split container chassis. A system developed and patented by us ourselves. These two 20 ft container chassis can be coupled together and offer loading capacities for all types of container.

2008
Opening of new paint shop. We have made a considerable investment into a 250-metre long paint shop in which all the phases are completed in succession. The trailer is guided through the 6 phases suspended.
2010
Introduction of the SL-Trailer. The next generation of trailers... Trailers (semi-low loaders and low loaders) designed with independent suspension. 12 tons per axle line, 79cm bed height, hydraulic suspension.
2014
SL-AIR. Introduction of the air-sprung and self-tracking semi-low loader on independent suspension.
2016
Introduction of the SL2. The lowest semi low-loader with the most ground clearance. With continued development of the SL Trailer we have also proven that we listen to users.
2016
SL-AIR 5. The SL-AIR 5 is the world's first hydraulically operated semi-trailer with independent air-sprung suspension. This new design combines two unique worlds in which an optimal steering angle and optimal load-carrying capacity work together.
2018
PL2. In 2018 we introduced the PL2, the pendle axle system which makes it possible to provide a variety of trailers with a minimum ride height of 810 mm and thereby achieve a stroke of 600 mm. 50% more pendle effect, lower maintenance costs and greater loading capacity.
2019
PL2 HD pendular axle low loaders. The most recent innovation of Broshuis is the PL2 HD, a pendular axle low loader with a new axle and a wider crane arm recess.
2019
Lightweight flat trailer. The lightweight flat trailer has been designed in collaboration with our end users. It is a hydraulically steered flat trailer, only extendable with only 8,700 kg tare weight.
2020
The semi low loader with pendle axles is hydraulically steered and hydraulically suspended. The pendle axles move independently of each other, making the trailer highly-manoeuvrable, but also very stable.
Safety and quality