Quality
Quality is our top priority. Quality goes beyond quantity. For this reason, our quality control is very extensive so you are assured of a trailer of the highest quality.
Sustainable und robust construction
Our flat trailers have the strongest side bar of its kind - the hot-rolled UNP side bar - and by making use of our 3D tube laser we are able to make the recesses in this side rave directly, which improves the strength of the steel.
Conservation/paint system
When our flat trailers are going through the process of the paint system, all of them will be hanging on their side and extended to the maximum.
This fully closed, 6 phase system means the flat trailer is not exposed to external weather influences during the process.
If you opt for the option: "metallization", your flat trailer will be fully metallized, including frames and turntables. (We are the only supplier that also metallizes these components.)
The image shows the lacquering process step by step, in which the left-hand turntable is scooped, the middle one is primed and the right one is coated with 2-K lacquer.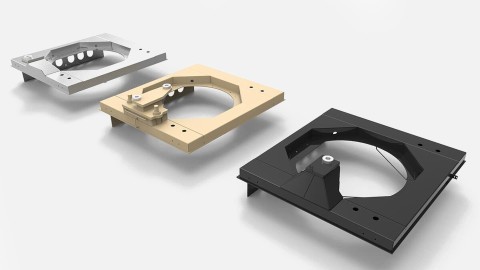 A-Quality components
The flat trailers are exclusively equipped with A-quality components, ensuring constant quality of your flat trailer. These A-quality components are available everywhere.
Long lifespan
Thanks to our robust design the flat trailers will have a longer lifespan. The difference is sometimes only visible after several years; but after this time, a Broshuis trailer shows the difference in quality between itself and trailers of other providers. We find this long lifespan essential when offering you a reliable investment.
Then and Now
To show that quality is one of our core values, we have a few photos of trailers that have been on the road for a really long time!