User-friendliness
Our main focus for every new design is led by the opinion of the customer; how can we make our flat trailers as user-friendly as possible? Below you will find several user-friendly items that make working with our flat trailer easier, faster and better than with other brands.
Easy slide system
Our flat trailers are extendable, simply by sliding its extension beams together. Often dirt and grease can get between extension tubes tubes making it more difficult for the trailer to slide/extend but thanks to the Broshuis Easy Slide System, we ensure that the flat trailers are not having any problems with extending or sliding. Venting the air out of the last axle's air bellow will make the trailer hang slightly backwards so that the extension tubes are released from each other, this makes it easy for the trailer to slide in and out.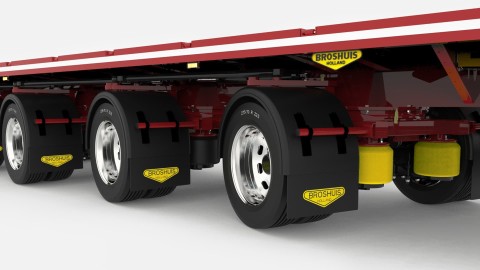 The air bellows of the last axle are deflated
Air is created, making sliding easy
Remote control
You may think the supplied remote control is only helpful for controlling the trailer, however that could not be further from the truth! The remote control helps the user with many other things...
The video below clearly shows multiple operations that can be carried out simpler and faster using the remote control. Steering (Pilot Steering) the trailer during sharp turns/roundabouts or while reversing is the most common operation of the remote control. As well as this though it is possible to automatically pressurize the hydraulic system, which ensures a smoother steering experience. The trailer can also be easily aligned with the remote control, which saves on tire wear and fuel consumption.
Twistlock plates for container transport
Sea containers are regularly transported on flat trailers and, for this reason, we have already integrated the twist lock plates in the chassis. For example, through optionally supplied twist lock hammers, the container can be easily and safely secured without issues with straps and / or chains.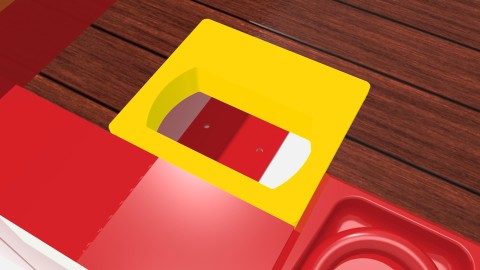 Coming home system
Most of the time flat trailers can be found on construction sites, where space is often tight and materials are left around inconveniently, so the possibility of damaging the steering is always there. To be prepared for any such case, all our flat trailers include a coming home system. So, do not worry about getting home if you have a Broshuis trailer!