New construction semi takes its first load straight after delivery
The new semi from Rental and Contracting Company P. Vos gets to work immediately after delivery! A new Volvo Dumper Truck A30G is picked up at SMT in Emmeloord, Netherlands. Watch the video and read the whole story below.
Rental and Contracting Company P. Vos is the family business of Jan-Piet and Henk Vos. Jan-Piet's son has also started working for this modern earthmoving and transport company. They provide transport, contracting and the rental of machines with or without operator for various clients.
The company has a large and modern fleet of machines, many of which are maintained and inspected in-house. From crawler excavators, bulldozers and vibratory rollers to trailers. This diversity of load types with all their different weights, lengths and heights puts a high demand on transport equipment. The goal: being able to transport the majority of loads themselves with a minimum of different trailers. The Vos family has more than succeeded in this with the purchase of a Broshuis 4-axle hydraulically steered and extendable semi low loader with 2 sets of wheel wells, a crane arm recess and hydraulic ramps. This is the second Broshuis semi in the company's fleet.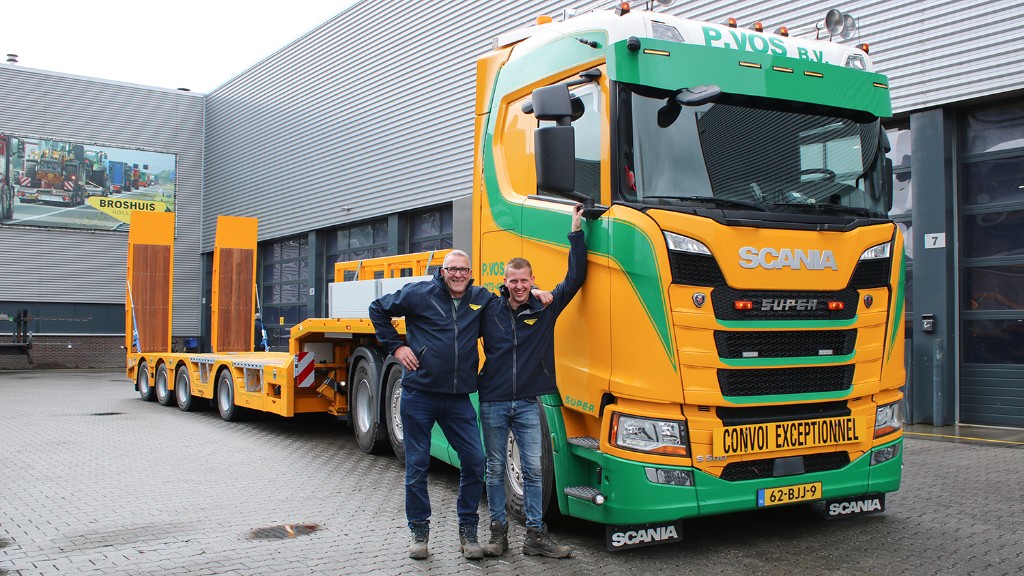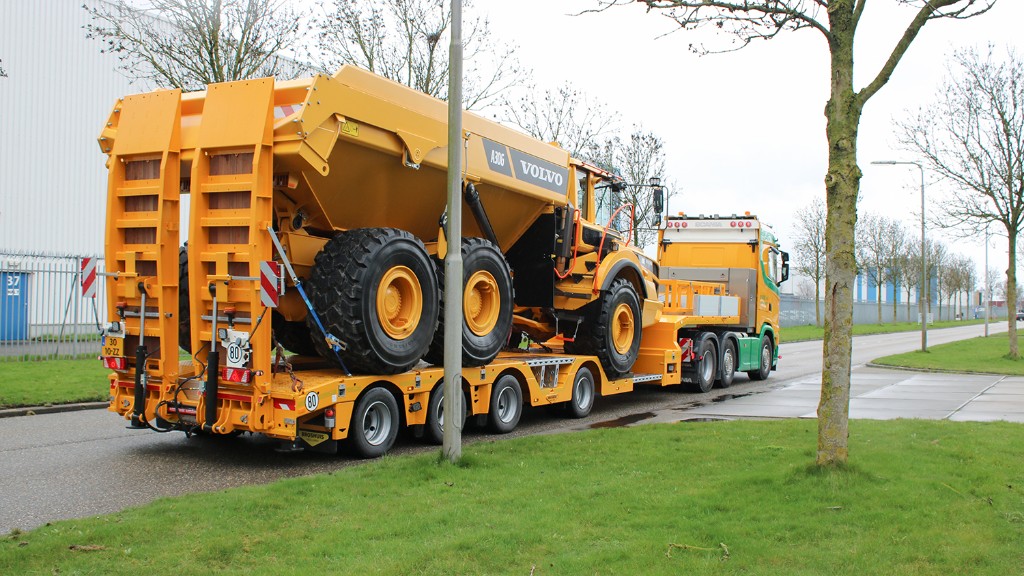 READ MORE
11 years ago, they bought a 4-axle semi with hydraulic ramps and crane arm recess and this is still happily used on a daily basis. For transporting machinery in the larger segment, they have now opted for the same semi fitted with wheel wells. The wheel wells allow shovels and dumpers (Cat 980, Komatsu 470, Volvo A30, Komatsu 400 etc.) to be lowered by up to 40 cm. For heavy crawler cranes with a high boom, the crane arm recess offers space to lower the boom with max 30 cm. The 275-cm-wide loading floor and hydraulic ramp make loading and unloading much easier and safer.
Having arrived at SMT's premises, the driver first removes the wheel well fill. The light and manageable filling makes this an easy job. Then he extends the trailer and fills the floor with the wheel well filling, completely closing the floor. Using the remote control, the driver can lower the support legs and the hydrailic ramp from a safe distance. Due to the 45-degree angle, the dumper drives easily into (and out of) the wheel well. After carefully securing the load and lifting the ramps and support legs, the combination is ready to go home.
Discover our solutions for construction machinery transport
4-AXLE HYDRAU­LICALLY STEERED CONSTRUCTION SEMI LOW LOADER
1x Extendable
Fixed neck
Kingpin load 23t
Bogie load 40t
Tare weight ca.15.5t
Platform height 895 mm
Extension 3,310 mm
Total extended lenght 16,485 mm
Request quote