L.A. van den Heuvel further expands its fleet
The familiar colours and beautiful combinations of L.A. Van den Heuvel special transport are a joy to behold mostly seen on the Dutch roads. The family business from Werkendam, Netherlands has officially been established in 1993. Since its establishment, Van den Heuvel and Broshuis have been firmly connected.
"The healthy cooperation and partnership lies in Broshuis' open culture, their quality products and good service." says Leonard Sr. Together with his sons Bas and Leonard Jr. they run the family business from Werkendam. A nice central location amid their loyal customers for whom they are available day and night.
Currently, Van den Heuvel's fleet counts 35 cars. "On weekends, it looks like a Broshuis showroom" jokes Bas van den Heuvel. Nothing could be further from the truth, everything is neatly washed and clean, ready for the week ahead. A company and collaboration we are also proud of at Broshuis. The last delivered trailer and the one that is still ready are two of the larger category.
3-Axle low loader PL2
A 3-axle single-extendable pendulum-axle low loader type PL2 HD. The low loader is characterised by its ultra-thin floor of 250mm. The loading floor can be linked so that extension beams can be built in between or to give the loading floor more prestressment for heavy loads. There is no lack of lashing eyes. Both on the outside of the loading floor and on the inside there are numerous certified 10-tonne lashing eyes. The loading floor also features steel sections where crawler cranes can easily be loaded and turned without damaging the trailer. The neck is also suitable for a 4-axle tractor and the corresponding tonnage allowed in the Netherlands.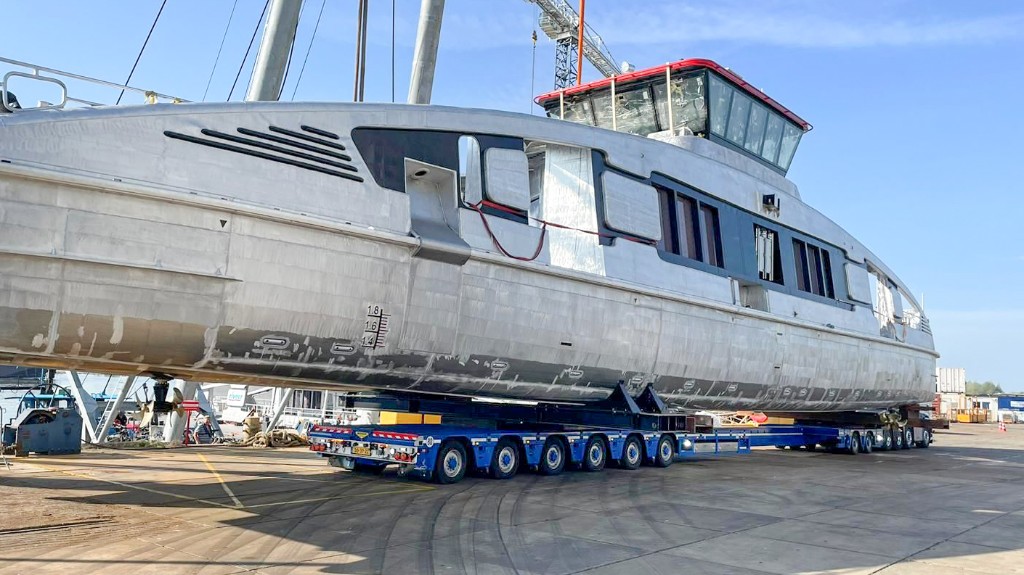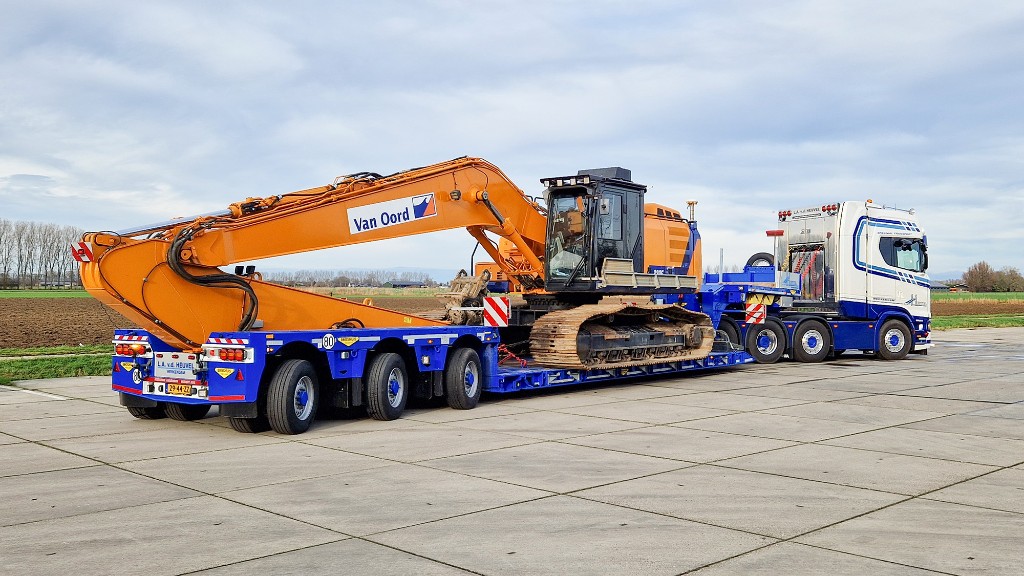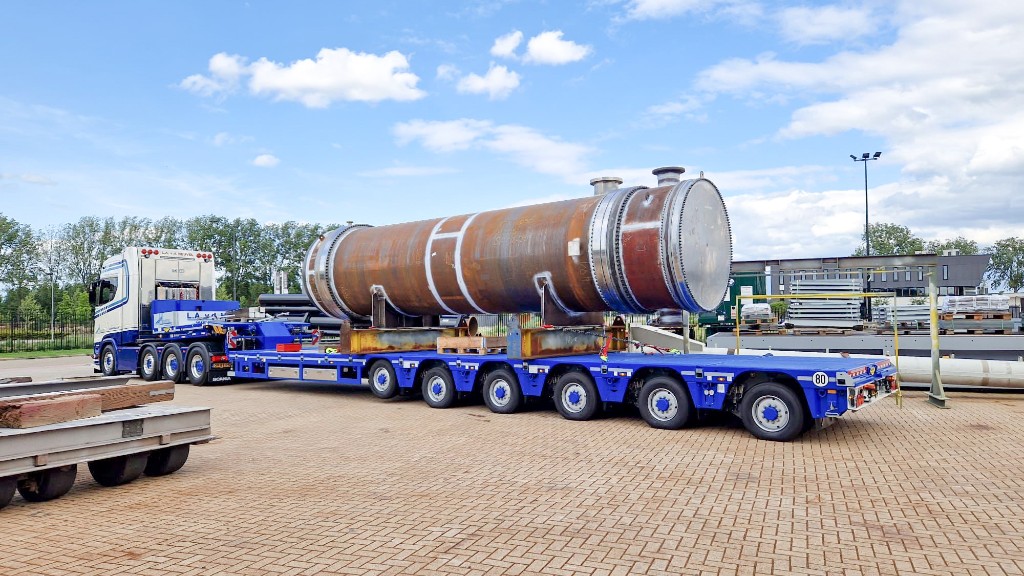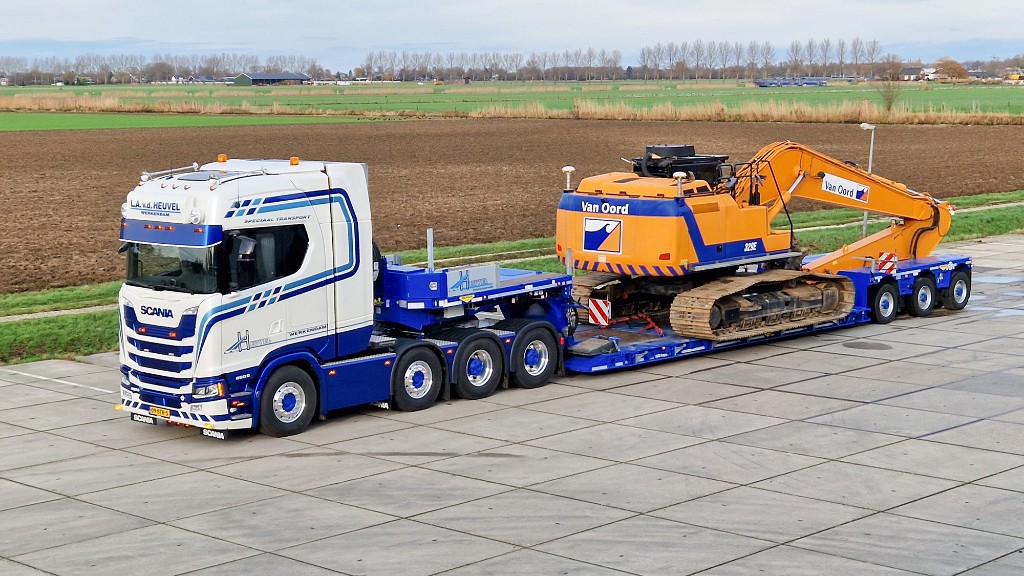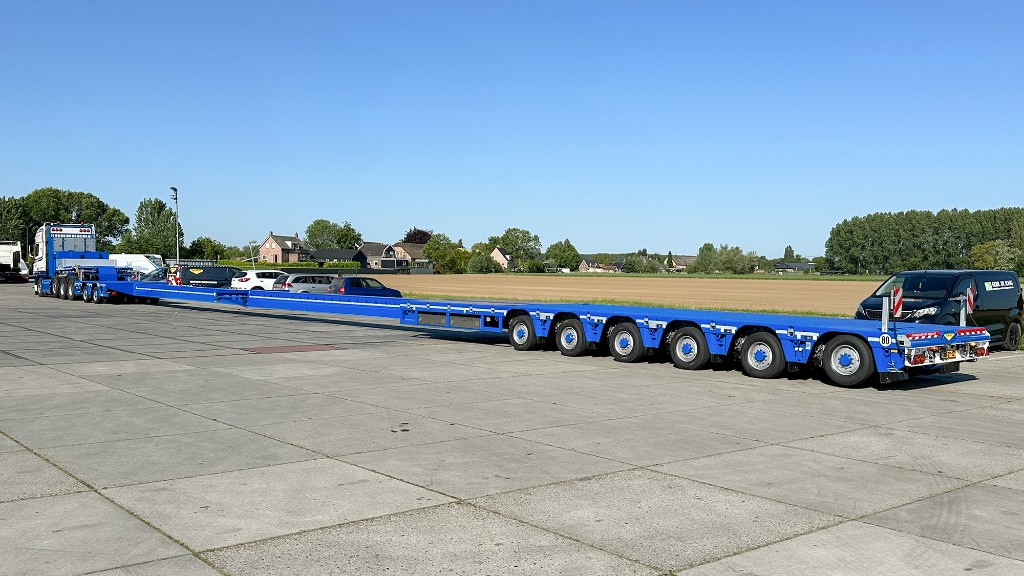 8-Axle semi low loader
Van den Heuvel's very latest addition is a double extendable 8-axle pendulum axle semi low loader. Executed as a 2+6 combination with PL2 pendulum axles. With this vehicle, a 40-metre long loading floor can be created. The 2-axle dolly is easily detachable, making the trailer also usable as a 6-axle semi low loader. The 2-axle dolly is linkable to the 6-axle axle set. This makes the trailer suitable for a possible extra "joker axle", extra extension beam or to apply more prestressment for heavy loads. With the lowest net weight of this type of trailer in the market combined with a stroke of the suspension of no less than 600 mm, Van den Heuvel can really distinguish itself in the market. The trailer's linkability also gives flexibility for the future should they need to be able to transport more length or more weight.
"Broshuis supplies every axle type. We already have the normal beam axles and the SL axles in our fleet. And from now on, we also have the pendulum axles. It is nice to have a supplier who has everything in house so we can choose the right solution for each type of trailer and job" says Leonard Sr. With these vehicles, Van den Heuvel is taking the next step in providing even more and better service to their customers.