Buying an agri low loader?
Agricultural machinery and vehicles are becoming increasingly heavy. With our 3-axle SL2 agri low loader with a load capacity of 35T, you can rise to this challenge.
3-axle SL2 agri low loader
To meet the need for even more load capacity, our Agri low loader is now also available as a 3-axle variant. This gives the Agri low loader a load capacity of 35T. The neck with room for protruding load (drawbar) and the central beam are identical to the 2-axle SL version, so the same options such as removable, sliding and reversible loading tables can also be applied.
General
specifications
1x Extendable
Independent suspension (SL2)
245/70 R17.5 Tires
Movable detachable neck
Centre beam
Load capacity app. 35T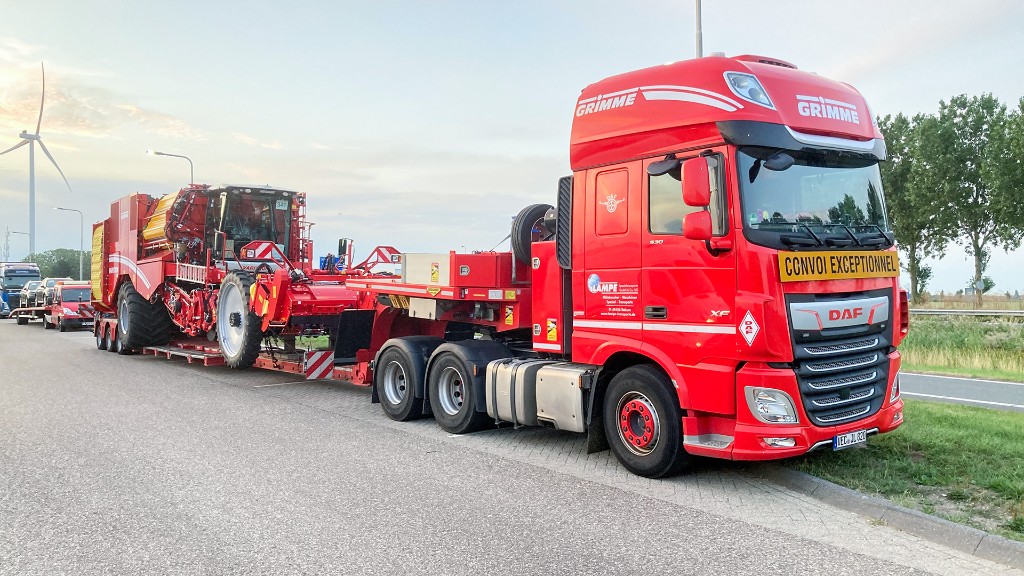 Technical
specifications
Kingpin load 18T
Bogie load 36T
Tare weight ca.18T
Loading height 370mm
Bed lenght 6475mm
Extension 4750mm
Total extended trailer lenght 19275mm

Related
products
2-Axle low loader specially designed for the transport of agricultural machinery and vehicles. A 2-axle hydraulically steered low loader with removable, sliding and reversible loading tables (flat/wheel well). The trailer is easy to operate and is used successfully by a number of agricultural machinery specialists.
2-axle SL2 low loader is a low loader on independent wheel suspension. This offers advantages over trailers with continuous or pendle axles. The biggest benefit is the low weight, low maintenance costs and a low axle assembly allowing the trailer to run closer to the ground when needed.
Thanks to the SL2 suspension, this low loader has a high axle load, a large steering angle and the lowest axle set in its class. Ideal for transporting agricultural machinery and vehicles.
Innovations
and techniques
We often mount conventional axles, also called through axles, on our trailers. We have these in an air-sprung version and also hydraulically-sprung.
The loader crane is ideal in many ways. As a haulier, you have flexibility because you can load and unload where and when you want and you are not dependent on a third party.
The anti-corrosion protection of a trailer is essential, you cannot simply do it 'again', it has to be done right first time!