Looking for a double extendable semi?
The 6-axle double extender semi low loader can easily transport extremely long loads. In combination with the hydraulic steering, the trailer remains highly manoeuvrable.
6-axle hydraulically steered semi low loader double extender
The double extendable hydraulically steered semi low-loader can reach a total trailer length of approximately 33 meters. This makes it possible to transport extremely long loads with ease. This trailer is equipped with hydraulic steering and suspension. This makes the trailer very stable as well as manoeuvrable. In addition, the trailer is equipped with a hydraulic gooseneck to compensate for the height differences in the road surface. Thanks to the adjustable conical bearings in the steering system, our semi low loaders require less maintenance. The trailer is pre-tensioned, so that the trailer is level when loaded. The hoses and cables are located in the beams, protecting them.
General
specifications
2x Extendable
Hydr. suspension hydr. steered
245/70 R17.5 Tires
Movable neck
Load capacity app. 65T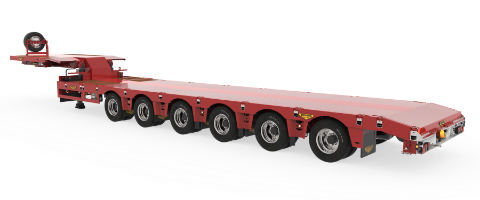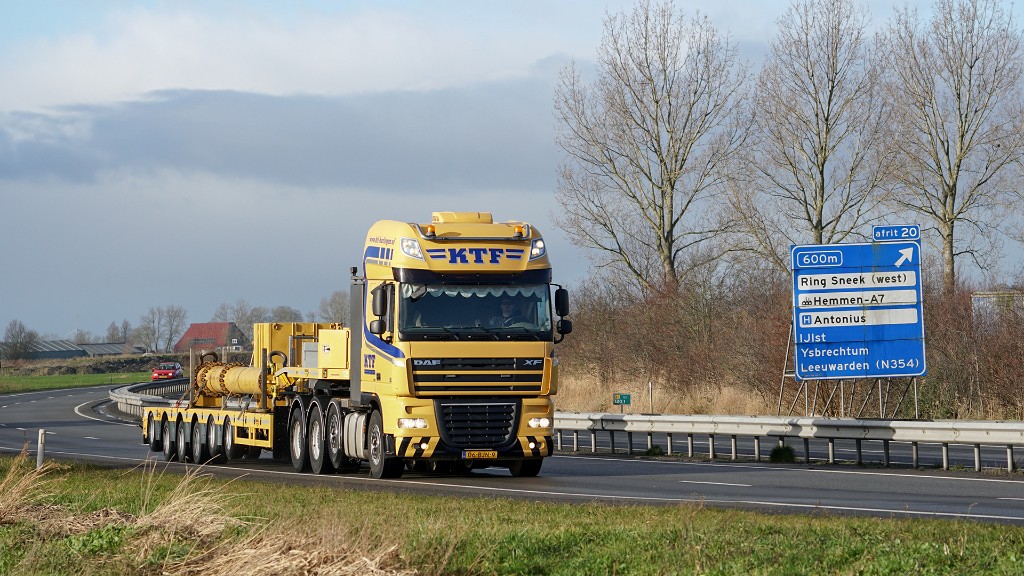 Technical
specifications
Kingpin load 30T
Bogie load 60T
Tare weight ca.23,3T
Platform height 965mm
Extension 17800mm
Total extended lenght 32995mm
Specification sheet
Related
products
This 6-axle hydraulically steered semi low loader is suitable for heavy work. The trailer has beam-axles, air suspension and is easy to maintain. This 6-axle vehicle is single extendable and can extend approx. 8 meters.
This 5-axle hydraulically-steered semi low loader is a triple extender. This allows the trailer to reach an overall length of 40 meters. Due to the hydraulic steering, the trailer is still highly manoeuvrable.
This 5-axle hydraulically steered construction semi low loader is single extendable and has hydraulic ramps, wheel wells and a crane arm recess. This makes this trailer the most versatile of its kind.
Innovations
and techniques
The anti-corrosion protection of a trailer is essential, you cannot simply do it 'again', it has to be done right first time!
We often mount conventional axles, also called through axles, on our trailers. We have these in an air-sprung version and also hydraulically-sprung.
Our trailers are often equipped with a number of technical highlights that make the trailer unique. Thanks to these techniques, you can transport cargo with your trailer that others cannot. Here you will find an overview of our techniques that we apply to our trailers