From idea to product
Klomp Transport from Harderwijk, Netherlands, has been a household name when it comes to caravan and chalet transport at home and abroad for more than 60 years. With their great focus on service and quality, they relieve customers from transport to installation.
In 2021, Klomp Transport came to Broshuis requesting a 2-axle low loader for the fast and safe loading and unloading of chalets up to 15.5 metres. Together with the Broshuis advisor, they discussed their requirements and what was technically possible to find the best solution. The advisor also looked at how Klomp Transport works with the trailer, how the chalet is unloaded and what is involved in getting the chalet neatly and undamaged to its destination. As a solution, we developed a special 2-axle chalet low loader together with Klomp and produced this trailer at Broshuis.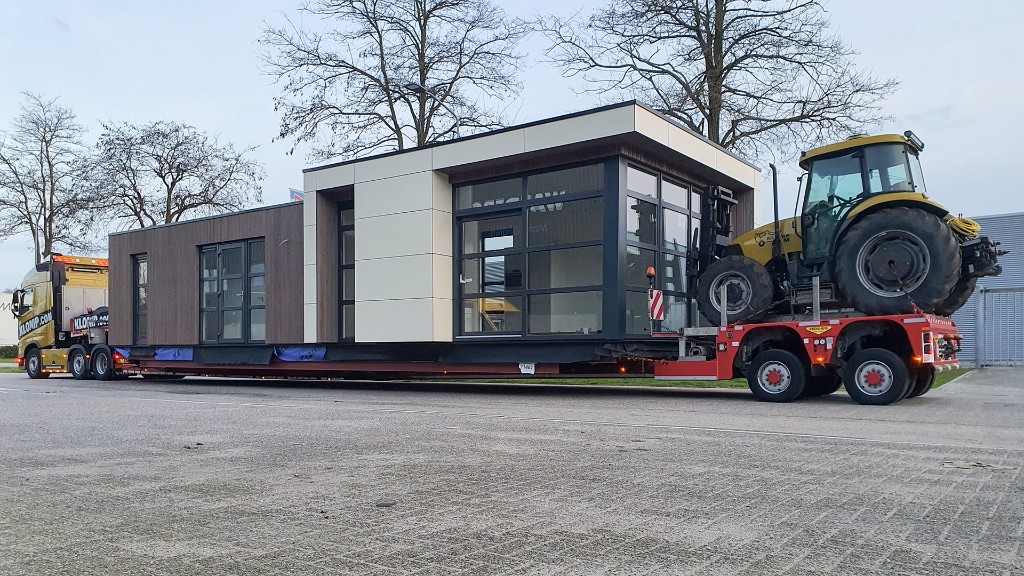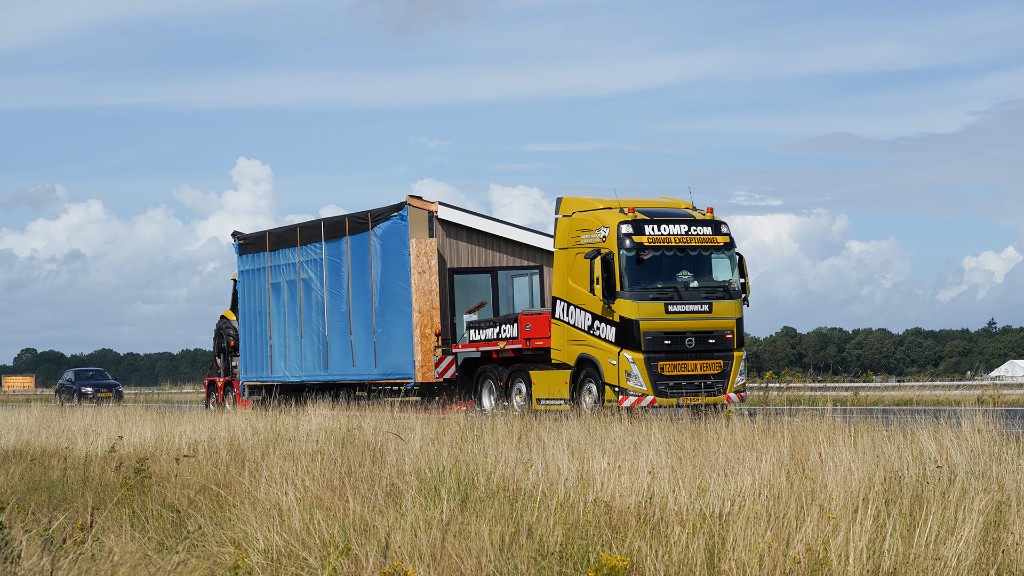 The solution
Features:
Bed with lowered outer sides, lowering the chalet wheels and limiting the height. (view technique)

Bed extendable at the rear side, with up to 8 metres of closed loading floor length. As a result, the chalet wheels always remain on the floor, even when extended. No floor panels are therefore needed in the extension. This is lighter, cheaper and easier to work with.

Correct prestressment. In consultation, the correct prestressment was calculated so that the trailer is always level when extended and loaded and the load does not become too high.

Maximum extended bed length of 16,000 mm, for transporting increasingly large chalets.

The stroke of the neck is as high as the stroke of the suspension, therefore it can achieve the same ground clearance everywhere under the load floor. As a result, a guardrail or a post is no longer an obstacle to wide loads.

Folding ramps at the front of the bed where the chalet can be driven on and off.

Lashing points, 10T certified lashing eyes in the right places for safely securing the chalet.
Due to the pleasant cooperation and offering a truly customised solution, Klomp Transport chose Broshuis. Since the first trailer was delivered in 2021, Klomp Transport has taken 7 of these chalet trailers into service, consistently making improvements along the way. A new trailer was recently ordered and will soon go into production. A great partnership we are proud of at Broshuis!
"An excellent product, great cooperation and a trailer built to our requirements!" – Theo Sijtsma

2-Axle pl2 chalet low loader

1x extendable
Pendular axles (PL2)
Fifth wheel load 23t
Bogie load 24t
Tare weight ca.16,8t
Load capacity app. 30t