The crane combinations of De Kreek Transport
De Kreek Transport (Ridderkerk, Netherlands) specialises in (heavy) crane work and related transport. To make their combination with a 4-axle Scania with 110 Tm Palfinger as efficient as possible, Marco de Kreek opted for a 2-axle extendable semi low loader from Broshuis in 2021, which was completely tailored to his needs.
Tailored to their needs
The combination is now within the legal requirements of the maximum combination length of 16.5 metres for partial loads. The gooseneck has been extended so that the fifth wheel is always in the ideal position for utilising the tractor axles. The front is equipped with an unique gooseneck. Only 120 mm thick and yet up to 18 tonnes of fifth wheel load!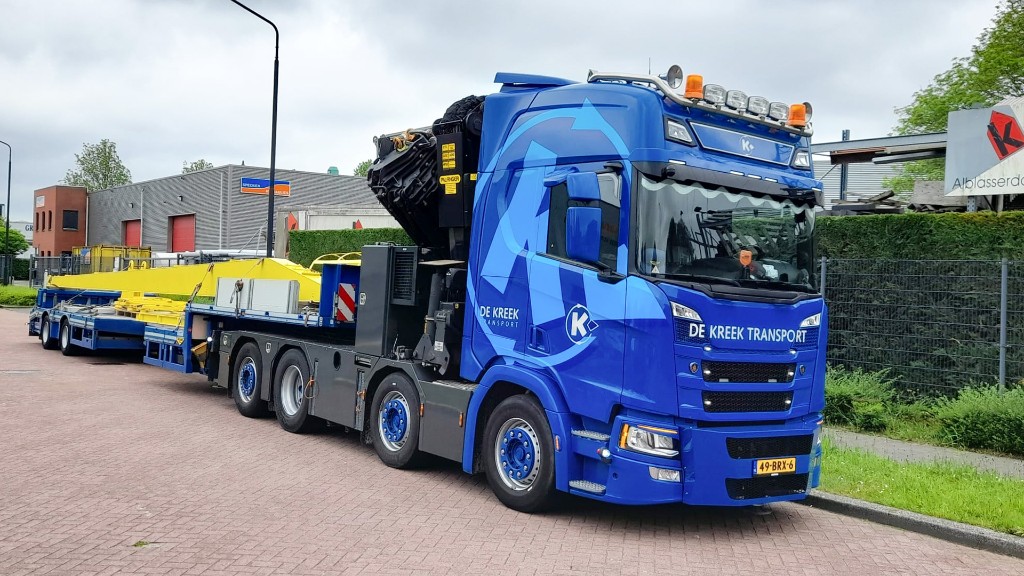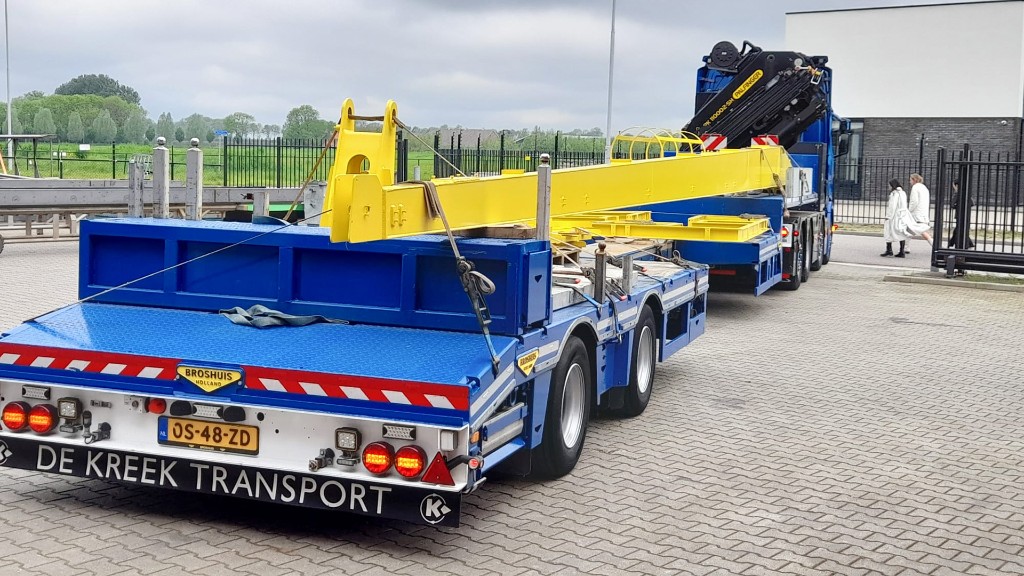 Ideal for e.g. loading containers on the neck without going over the maximum height. Furthermore, the trailer was delivered complete with, a.o., an intermediate table for more loading floor length, timber box and rack for aluminium ramps.
"The short 2-axle steers as sharp as a knife" the driver tells us. And that is, of course, ideal for inner-city transport and tight construction sites. With any auxiliary steering, this combination gets anywhere. The ideal combination for De Kreek Transport's specialised work.
New trailer ordered
Meanwhile, Broshuis is also building a 3-axle flat trailer for De Kreek which will be tailored for use behind a 3-axle Volvo with 53 Tm Palfinger. A great collaboration we are proud of at Broshuis and will certainly share more about.

The loader crane is ideal in many ways. As a haulier, you have flexibility because you can load and unload where and when you want and you are not dependent on a third party.
As a crane rental company, you transport ballast, crane and boom parts efficiently within national regulations. We supply customer-specific semis and flatbed trailers to help you do just that. Read more here.
Dennis Knook has been with Voorbij Funderingstechniek for six years and is just too happy with the 76-ton crane on his Broshuis trailer.